Conference 2019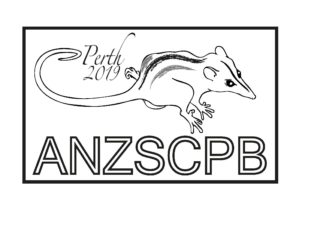 The 36th Annual Meeting will be will be held in Perth, Western Australia, hosted by the University of Western Australia.
Registration 5th December, Conference 6-8th December 2019, at the University of Western Australia, Crawley, WA.
Logo design: Gerhard Koertner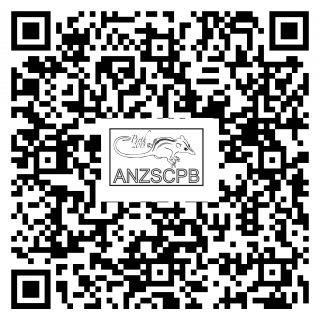 2019 Abstract Book
Available for download here or by scanning the QR code
Conference registration can be completed here.
The conference venue will the Bayliss Building (see grid H6 on the map below, building 211), and the conference dinner will be the University Club (grid E7, building 107), both on the Crawley Campus of the University of Western Australia, 35 Stirling Highway, Perth Western Australia.
Registration will be from 17:00-21:00 on Thursday 5th December
Conference will run Friday 6th December to Sunday 8th December (anticipated to finish lunchtime Sunday)
Conference dinner will be held on Saturday 7th December
Rates (includes registration function, morning tea, lunch and afternoon tea for three days, and the conference dinner):
Academic: $280
Student (must be an enrolled student at time of registration) $180
Student Registration Award:
Six student awards to cover the cost of registration (including the conference dinner) are available, thanks to a generous donation of the Ottawa ICCPB plenary speaker award.
Currently enrolled students (undergraduate and postgraduate) presenting a talk at the conference are eligible to apply. Students should be the first author on their paper. Abstracts will be assessed according to their scientific merit, presentation and relevance to the society.
See application submission details below.
Accommodation:
Conference accommodation has been arranged at Trinity College (grid C4, building complex 120), 230 Hampden Road Crawley WA 2009.
To book accommodation please call Trinity directly on (08) 94239423 or email admin@trc.uwa.edu.au. It is very important that you make it clear that your accommodation is for the ANZSCPB conference when you book.
Rates:
Standard room $60.50 per night
Single ensuite $73.00 per night
Double ensuite $85.00 per night
Abstracts:
Abstracts for spoken papers should be 200 words in length, and should be prepared on this template, using the exact format, by pasting your material over the example material. The name of the presenting author should be in bold and student speakers should be underlined. Please save your abstract as a Microsoft Word document, with the following naming convention: SurnameInitials ANZSCPB 2019.docx
Abstracts should be submitted to C.Cooper@curtin.edu.au by 11/11/2019, with "ANZSCPB Abstract 2019" as the subject of the email.
Talks will be 15 minutes, with 5 minutes for questions.
Abstracts will only be accepted if a) they are provided in the appropriate format and b) if the speaker has registered by the 11/11/2019.
Students applying for a registration award should submit their abstract as outlined in the conference information on the website, with "ANZSCPB Abstract 2019 STUDENT AWARD" in the subject of the email. Abstracts will be assessed and those funded will be notified by the 14th of November. Successful applicants will not have to pay registration fees when they register. As such, the deadline for all student registrations for speakers will be extended to the 18th November.